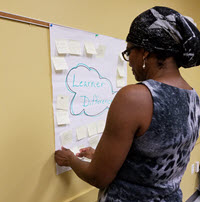 ESOL Highlights
Since this is our final newsletter of this  year, we would like to share some highlights of FY18 with you. Keep reading for lots of upcoming PD!
Our team of consultants expanded and blended all the PD offerings based on the ESOL Professional Standards, so they are now 8–10 hours of blended PD (instead of the original 5.5 hours of face-to-face only). They now include robust online components full of resources, videos, classroom activities, and opportunities to share and reflect with colleagues.
  
Due to popular demand, we offered the valuable Teaching Pronunciation to ELLS three times throughout the state. This offering includes a face-to-face workshop and follow-up webinar.
  
After piloting the online Principles of Second Language Acquisition last year, we revised and offered it twice this year, giving practitioners with limited time and ability to travel an alternative to the blended/face-to-face offering.
  
We also offered the rich Evidence-Based Vocabulary Instruction for English Learners twice this year. Based on research conducted by the Center for Applied Linguistics in Washington, D.C., this course is tailored for teachers of adult ELLs. The 15-hour blended offering is made up of two face-to-face workshops and two self-directed online components.
  
Through consistently offering online PD via blended workshops, facilitated webinars, self-directed courses, and online discussions, and supporting practitioners as they navigate unfamiliar technology, we have increased the digital literacy and comfort level of the adult ESOL practitioners in the state.
Upcoming PD
We are wrapping up the year with the following upcoming events. Start dates are included; click on the event names for more information
A note on the SABES Professional Development Points (PDPs) Policy:
All the SABES PD Centers, including ESOL, offer PDPs by request. To receive PDPs, the PD offering must be at least 10 hours in duration; you must have completed all components of the offering; and the participant must complete a final project approved by the PD presenter. If you have any questions about this policy, please contact Dori McCormack at the ESOL PD Center (dmccormack@hcc.edu).
PD Center
SABES English for Speakers of Other Languages (ESOL) Curriculum & Instruction PD Center