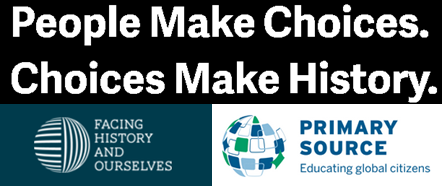 Two excellent nonprofit educational organizations based in Massachusetts provide these free educator webinars.
While geared toward K–12 educators, the webinars will also be relevant to ABE and ESOL teachers who wish to incorporate these topics into classes, or to use the teaching strategies modeled here.
Watch recordings of past Facing History webinars. A free Facing History account is required. Examples of past webinars include:
Fostering Civil Discourse in the (Remote) Classroom
George Takei: Standing Up to Racism, Then and Now
Teaching the Rise of the Nazis Through Images (The webinar will also model particular teaching strategies geared toward helping students analyze historical images in classroom settings.)
Teaching in a Time of Terrorism: When do you choose to scrap your daily lesson and instead focus on contemporary events? When do you pause for a moment and then carry on with your planned curriculum?
Explore the Legacy of the Holocaust Today: Consider what it means to not just learn about this history but also to remember it and acknowledge how it influences our lives today.
Look ahead and register for upcoming Facing History webinars.
Watch recordings of past Primary Source webinars. A free Primary Source account is required. Examples of past webinars include:
World War I as a Global Phenomenon
Connecting Past and Present in Matters of Voting
Racial Injustice and the African American Experience: The Injustice System
PD Center
SABES English Language Arts Curriculum & Instruction PD Center