Job Title
Program Coordinator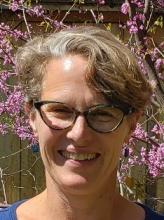 Short bio
Laura Porter is the Program Coordinator for the SABES ESOL Curriculum and Instruction Professional Development (PD) Center. She supports the planning, general operations, and evaluation of the PD Center, and develops and facilitates a variety of professional development offerings in diverse subject areas. She served as a reviewer for the Massachusetts English Language Proficiency Standards, published in 2019, and helped to write the updated Massachusetts ESOL Professional Standards.
She has been an ESOL educator for more than 20 years, and holds a Master of Arts in Teaching ESOL and Spanish from the School for International Training. Her teaching interests include high level ESOL instruction, with a focus on college and career readiness, digital literacy, social justice issues, and the integration of math subjects into ESOL instruction.
She has provided teacher training to public school teachers and adult educators, and presented workshops on a range of topics, including instruction for high level ELs, curriculum development, strategies for vocabulary instruction, goal setting, integration of mobile apps, and bringing "green" topics into the ESOL classroom. In addition to her work with the ESOL PD Center, she teaches a high-level ESOL class at the Ludlow Area Adult Learning Center, a program of Holyoke Community College.