Last Name
Dempsey-O'Connell
Job Title
Coordinator of Instructional Technology and Assessment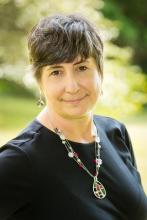 Short bio
Pam Dempsey-O'Connell is a coordinator of instructional technology and assessment for the SABES PD Curriculum and Instruction Center for English Language Arts. She works with both center directors and consultants to create engaging, meaningful, and high quality professional development (HQPD) for online or face-to-face learning for Adult Education (AE) practitioners in Massachusetts.  
Pam began her 30-year education career in middle and high school settings, but she discovered adult education while working at a military education center and knew she had found her calling.  Pam has since been in the AE field for over 20 years, working in multiple states. Each state has had its own unique program design, which has provided her with a greater appreciation of the value and complexities of the AE field. In upstate New York, for example, she worked with soldiers at the Fort Drum Education Center as a classroom GED and PLATO instructor.  In Arizona, she worked with the Cochise Community College's AE Program's Family Literacy grant as an on- and off-campus GED instructor.  
Pam has been in Massachusetts since 2001, working with Mount Wachusett Community College's (MWCC) AE Program in a variety of positions.  She has been a GED instructor, Transitions/Bridge math instructor, ABE Advisor, Technology Coordinator, DL Coach, Site Coordinator, and Site Manager. In 2005, Pam had the opportunity to work on the MAPT's development by creating math test items; in 2008, she helped to pilot the initial evidence-based reading instruction (EBRI) with MWCC Gardner's AE Program and the SABES ELA office.  She also participated in the SABES Advising group and as one of the panelists for distance learning (DL) best practices at the spring 2017 "ASE Hub CALC Webinar."   
In each state Pam has worked in, she has continued to pursue professional development or graduate work, many times in a nontraditional format.  As technology evolved, it became evident to Pam that online learning would allow accessibility for adult learners who needed a nontraditional format.  She completed a Master's degree in Education from the University of Massachusetts at Boston in Instructional Design with a focus on the non-traditional AE learner.