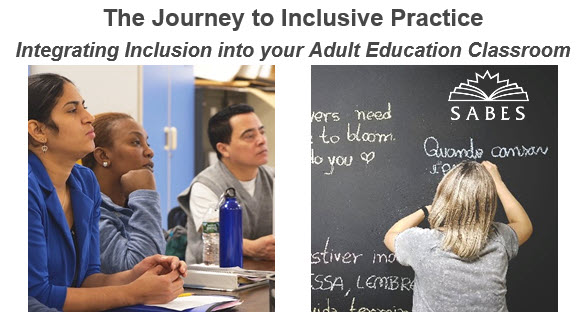 The Spring 2022 SABES Newsletter is hot off the press and ready for your viewing! This issue's theme is: The Journey to Inclusive Practice - Integrating Inclusion into your Adult Education Classroom. 
Especially written for adult education instructors, directors, and advisors who are full in the midst of starting up the new school year, whether face-to-face, hybrid, or fully remote. 
In addition: 
Check out the Job Board if you have any openings
and click on the Upcoming Offerings links at the bottom to sign up for courses and workshops.
Tell us what types of information you'd like to see in future newsletters: info@sabes.org.
Didn't receive the newsletter in your email? Sign up here to be sure not to miss an issue!
Topic Area
Digital Literacy
Distance and Blended Learning
Education and Career Planning
Education Leadership / Management
ELA
ESOL/English Learners
Mathematics and Adult Numeracy
Media Type
Newsletter
Website
PD Center
SABES PD System Communication Center