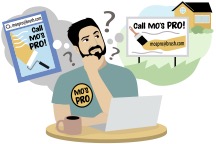 Be Your Own Boss is a 10-lesson unit that prepares students to use math and reasoning to make big decisions. It teaches about small business ownership through real stories using authentic student voices. Throughout the unit, students will follow the stories of four adult education students who own three businesses and learn about business ownership through recorded interviews of these students.
This is a context-driven unit that incorporates relevant academic skills. The primary focus is on learning about small business ownership, but you will find additional learning opportunities throughout the unit that provide for additional learning and practice with specific math and digital literacy concepts and skills.
This unit is a chance to Teach Skills That Matter while guiding students to find their own answer to questions like, "How do I make a really big plan for something and make it work?" and "How do I use math to make decisions?" At the end of the unit, the students use what they've learned about researching, organizing, and analyzing information to either (a) make a personal or business decision and justify it with math and non-math reasoning, or (b) make a concrete plan for the future and support it with research.
Topic Area
Career Pathways
Digital Literacy
Mathematics and Adult Numeracy
Workforce Development
PD Center
SABES Mathematics and Adult Numeracy Curriculum and Instruction PD Center