Job Title
Assistant Director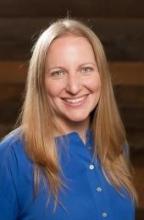 Short bio
Jen Yurof is the Assistant Director of the SABES Communication Center, and an associate project director at Education Development Center, Inc. (EDC). Since 2019, Jen has worked with the SABES PD System Communication Center, and she is currently responsible for the website events, resources, and news content and the SABES internal meetings. 
While at EDC, Jen has had extensive experience collaborating with subject matter experts to develop engaging and interactive online learning experiences. An expert online facilitator, she has worked with teachers, graduate students, and adult learners to enhance learning and understanding across a variety of initiatives. Her work includes managing an artificial intelligence course for Samsung's Innovation Campus. She has also helped lead EDC's work as an instructional design partner for SAE International's award-winning A World In Motion® program, and serves as online learning specialist for Amgen Biotech Experience, an innovative science education program that has reached 800,000 students.
She has an M.Ed. from Fitchburg State University and a B.A. from Connecticut College.
PD Center
Communication Center