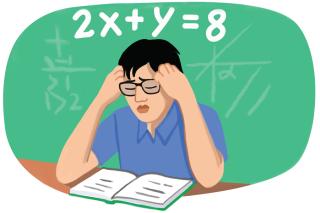 Overview
Many people—students and teachers alike—have had difficult math learning experiences, and yet research shows that everyone can learn math. The brain science behind learning, math anxiety, and so-called "math people" can shed light on these experiences and how teachers who have struggled with math themselves can transform their experience into support for students. 
Audience

This professional development activity/course is designed for:

Adult education teachers at all levels of math ability and comfort
Description
This workshop will explore neuroplasticity (how the brain changes), working memory and its limits, and how anxiety affects the brain in the context of math learning. We'll reflect on the strengths that different math experiences can offer us as teachers, and how those who have struggled with math can transform their experiences into empathetic and effective teaching. We'll consider how we can use this knowledge to foster a classroom culture of positive math mindsets.
Please note: About one week before the event, registrants will receive a separate email from sherry_soares@terc.edu from the SABES Math Team at TERC with instructions on how to access the Zoom session. 
Priority seating will be given to Massachusetts adult education teachers.
Learning Objectives

Upon completion of this professional development activity/course, you will be able to:

Connect concepts of neuroplasticity, anxiety, and working memory to math learning
Reflect on the strengths and challenges that our own math learning experiences offer us as teachers
Identify practices supporting students in overcoming math anxiety or misconceptions about math learning
Presenter(s) / Facilitator(s)
Date
02/28/2022 - 1:00 pm to 02/28/2022 - 2:30 pm
PD Center
SABES Mathematics and Adult Numeracy Curriculum and Instruction PD Center
Topic Area
High School Equivalency (HiSET/GED)
Learning Disabilities / Differences
Mathematics and Adult Numeracy