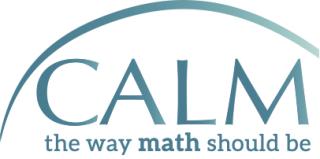 Overview
Para ver esta información en español, haga clic aquí.
PLEASE NOTE:
1) This event will be delivered entirely in Spanish by a Spanish-speaking facilitator.
2) Please read the hosting location's COVID policy (attached below) and respond by May 4. Proof of vaccination is required to attend.
Adult learners often have large gaps in their conceptual understanding of math that prevent them from being college ready. CALM is a math curriculum developed by the Adult Numeracy Center at TERC that is designed to address those gaps and give adults a strong conceptual foundation that will prepare them to not only earn a high school credential, but to also be truly ready for higher education. CALM teaches math concepts using real-world contexts and is appropriate for all adult learners. Lessons focus on explorations so students can build conceptual understanding in a spiral approach that helps connect many math concepts.
CALM is aligned to the College and Career Readiness Standards for Math, including both the instructional shifts and the Standards for Mathematical Practice. Carefully selected, quality resources are used in CALM, including the EMPower series, which is referenced extensively. Each CALM unit includes individual lessons (or references to resources), formative assessments for each lesson, and an end-of-unit, performance-based assessment. 
Audience

This professional development activity/course is designed for:

Spanish-speaking adult numeracy instructors who serve Spanish-speaking learners
Description
The CALM Orientation is a full-day opportunity for directors, teachers, and volunteers to begin to understand how CALM is different from traditional math teaching. This workshop will be delivered in Spanish by a Spanish-speaking facilitator who is also an HSE instructor. All handouts, presentation slides, and subtitled videos will be shared in Spanish in hopes that teachers leave the day fully prepared to use CALM upon returning to the classroom. Teachers will be able to access the entire curriculum digitally.
After the orientation, teachers will be invited to attend online CALM Support sessions. In these sessions, teachers' challenges can be addressed and they can learn new math strategies that can be immediately applied in CALM. (Note: At this time, all CALM Support sessions are offered only in English.​)
This is a six-hour event with a one-hour break for lunch (provided). To receive a certificate of completion, participants must attend the full session. For more information, please contact Sherry Soares (sherry_soares@terc.edu).
Learning Objectives

Upon completion of this professional development activity/course, you will be able to:

Implement lessons and units from CALM

Use a more conceptualized approach to teaching math
Use, analyze, and react to student assessments (both formative and end-of-unit performance-based) in order to adjust instruction
Presenter(s) / Facilitator(s)
Date
05/06/2022 - 9:00 am to 05/06/2022 - 4:00 pm
Location
TERC
2067 Massachusetts Avenue, 2nd floor
Cambridge, MA 02140
United States
PD Center
SABES Mathematics and Adult Numeracy Curriculum and Instruction PD Center
Topic Area
CCRSAE (College and Career Readiness Standards for Adult Education)
ESOL/English Learners
High School Equivalency (HiSET/GED)
Learning Disabilities / Differences
Mathematics and Adult Numeracy