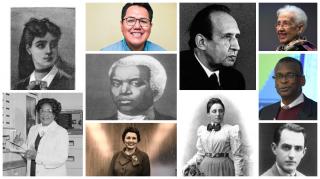 Overview
Our adult education students represent a multitude of backgrounds and cultures, yet they may not feel these are reflected in the math classroom or in STEM fields. In this interactive workshop, you will be introduced to mathematicians of many backgrounds -- female, Black, Indigenous, and People of Color (POC) -- whose stories and many contributions were all but erased from history. Educating ourselves and our students about these "invisible" STEM pioneers is a step toward what Dr. Gholdy Muhammad calls historically responsive education (instruction responsive to the histories, identities, literacies, and liberation of students). When students see themselves represented in STEM fields, they may be better able to see themselves succeeding at math.
Audience

This professional development activity/course is designed for:

All adult education math practitioners
Description
A first step in creating a more equitable and inclusive math classroom is to learn how students can feel marginalized in the classroom, and how important it is to address the feeling of invisibility. In this workshop, we will first introduce examples of great mathematicians who are female, Black, Indigenous, and People of Color (POC) and whose stories and contributions have been largely omitted from mainstream historical accounts. We will then conduct our own real-time online mini-explorations to find other examples of mathematicians to share with each other during the session. Lastly, we will listen to one teacher share her experience of introducing mathematicians of various cultures into her AE classroom and discuss how integrating similar explorations can help develop a culturally responsive math classroom.
Please note: About one week before the event, registrants will receive a separate email from sherry_soares@terc.edu from the SABES Math Team at TERC with instructions on how to access the Zoom session. 
Learning Objectives

Upon completion of this professional development activity/course, you will be able to:

Value the importance of making students feel "visible"
Provide inspiring examples of female and BIPOC mathematicians whose STEM contributions have been overlooked
Explain why it's important for marginalized students to see themselves represented in STEM
Presenter(s) / Facilitator(s)
Date
11/18/2022 - 10:00 am to 11/18/2022 - 11:30 am
PD Center
SABES Mathematics and Adult Numeracy Curriculum and Instruction PD Center
Topic Area
Antiracism
Culturally Responsive and Sustaining Teaching
ADEI (anti-racism, diversity, equity, and inclusion)
Digital Literacy
Gender
Mathematics and Adult Numeracy
Race
Self-Paced Monthly Offering
Off