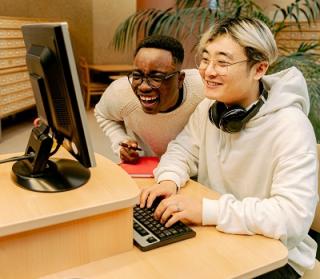 Overview
Digital literacy is a priority for programs, but in order for students to build digital literacy skills, they need access to computers and internet service to work and study. It can be expensive for programs to purchase technology for use in classes and to loan out to students and staff. In this workshop, you will hear about three sources of free or discounted devices and connectivity, and we will discuss successful practices for loaning technology. We will also share a source for assistive equipment for computer users with disabilities.
If you have sources or practices you recommend, please come ready to share. 
Questions? Contact Diana Satin: dianarsatin@gmail.com
Audience

This professional development activity/course is designed for:

Teachers, advisors, directors, and anyone of any proficiency level interested in helping students or staff access devices or the internet
Description
This is the first in a series of FY23 workshops designed to help teachers identify and use technology resources and tools for specific purposes. In this session, you will learn about getting devices and connectivity through the federal Affordable Connectivity Program, EveryoneOn, and Digitunity. We will look at the MassMATCH lending library of accessibility equipment for those with a variety of disabilities. 
Working with colleagues from across the state, you will have time during the session to explore the resources and to develop a plan for your next steps.
Note: Ruzica Banovic (ruzica_banovic@worlded.org) will send you a separate email with instructions on how to access the Zoom session.
Learning Objectives

Upon completion of this professional development activity/course, you will be able to:

Evaluate a resource for accessing devices or connectivity for use with students and staff, and at their in a program
Plan the next steps for addressing a need at their program
Presenter(s) / Facilitator(s)
Date
09/07/2022 - 10:00 am to 09/07/2022 - 12:00 pm
PD Center
SABES Program Support PD Center - Digital Literacy
Topic Area
ADA (Americans with Disabilities Act)
Advising
Digital Literacy
Distance and Blended Learning
Education Leadership / Management