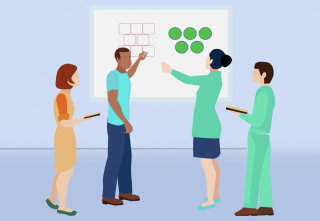 Overview
Does discussion belong in math class? Yes! Talking about math leads to deeper understanding for both teachers and students. Through class discussions, teachers can gauge what their students know, and this information provides a foundation on which they can build future math instruction. Discussion helps students strengthen skills like constructing arguments and critiquing the reasoning of others—habits of mathematically proficient learners—which enables students to understand math content more deeply. 
Audience

This professional development activity/course is designed for:

ABE teachers at all levels of math ability and comfort
Description
In this workshop, we will use sample classroom dialogue to identify expectations that we communicate to students. We will consider how a safe environment and valuing students as learners influences the depth of conversation in the classroom. With a partner, you will practice focusing on student thinking, asking open questions, capitalizing on student curiosity, and finding what's right in students' thinking in order to build mathematical understanding from their ideas.
Please note: About one week before the event, registrants will receive a separate email from the SABES Math Team at TERC (sherry_soares@terc.edu) with instructions on how to access the Zoom session. 
Learning Objectives

Upon completion of this professional development activity/course, you will be able to:

Communicate to students that reasoning, logic, and strategy-sharing are more valuable ways to learn math than just getting an answer
Select math problems for your students that communicate your learning expectations and values
Respond to incorrect answers by starting with what learners know and building from there
Presenter(s) / Facilitator(s)
Date
01/25/2023 - 3:00 pm to 01/25/2023 - 4:30 pm
PD Center
SABES Mathematics and Adult Numeracy Curriculum and Instruction PD Center
Topic Area
CCRSAE (College and Career Readiness Standards for Adult Education)
ESOL/English Learners
High School Equivalency (HiSET/GED)
Learning Disabilities / Differences
Mathematics and Adult Numeracy