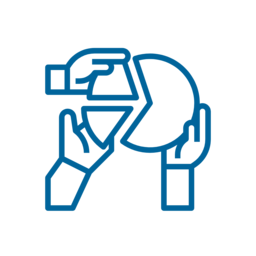 Overview
As you think about integrating digital literacy into core instructional practices, project-based learning (PBL) can be a powerful approach to customizing teaching and learning that responds to your students' needs and interests. In this workshop, you will learn about ways you can develop and use PBL activities that address adult learning and development theory and promote persistence. 
We will discuss ways to engage learners in PBL that help to build digital literacy skills, as well as how building in digital skill routines can help. We will also explore how PBL empowers students to be at the center of their learning by making decisions about their work, evaluating their own learning, and developing collaborative skills that will transfer into their other work, life, and academic contexts.
We encourage you to bring an existing class activity to share so you can consider how to adapt it for PBL and digital literacy inclusion. This process can be easier than you might imagine, and it creates new opportunities for engaging students in new ways.
Questions? Contact Diana Satin: dianarsatin@gmail.com
Audience

This professional development activity/course is designed for:

Teachers, advisors, coordinators, and anyone new to project-based learning that includes digital skills
Description
Part 1: Workshop
During the synchronous webinar, you will learn the definitions of project-based learning (PBL). You will review its key elements, analyze example PBL activities, and discuss the benefits. You will begin to either adapt an existing PBL activity you have previously developed or draft a new one to be used with your students. While collaborating with other participants, you will have time during the session to explore the resources and to begin to develop a plan for your next steps. 
Part 2: Applying Your Learning
After the workshop, you will finish your draft plan with the support of your colleagues and the facilitator who will be available to work directly with you (along with your program colleagues if desired).
About This PD
After you register, Jane Brandt (jane_brandt@worlded.org) will send you a confirmation email with information on how to join this online session.
Following this 1.5-hour online webinar, you will finish a draft plan to use with your students. This can be submitted for feedback and support from the facilitators.
Wondering about Problem-Based Learning?
Project-based learning is often conflated with problem-based learning, and while they are similar, there are also many differences. We encourage you to also attend the Curriculum and Instruction PD Centers' session on Problem-based learning on May 18. You can find more information and register via the SABES Calendar here. 
Learning Objectives

Upon completion of this professional development activity/course, you will be able to:

Define project-based learning (PBL)
Explain the key elements of PBL
Apply the seven design elements of effective PBL activities
Adapt an existing lesson or draft a new PBL activity for use in the classroom
Presenter(s) / Facilitator(s)
Date
04/12/2023 - 10:00 am to 04/12/2023 - 11:30 am
PD Center
SABES Program Support PD Center - Digital Literacy
Topic Area
Digital Literacy
Distance and Blended Learning
Self-Paced Monthly Offering
Off