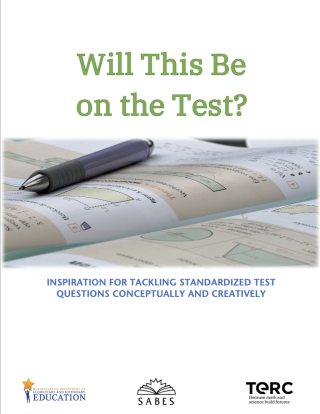 Overview
Standardized testing, whether it is for high school equivalency or measuring student gains, is a major concern in adult numeracy classes. It can be tempting to "teach to the test" in the hopes of getting students ready to get a passing score as quickly and painlessly as possible. However, making test preparation the main focus of instruction does not create lasting learning and often is not even effective in achieving passing scores or demonstrating gains. It is possible to teach conceptually and do explicit test preparation at the same time. When students get exposure to—and practice with—standardized test questions in a context that prioritizes conceptual understanding and flexible thinking, they will be more prepared to achieve test scores that fully reflect their skills and understandings.
Audience

This professional development activity/course is designed for:

ABE and HSE teachers at all levels of math ability and comfort
Description
In this 1.5-hour workshop, you will be introduced to Test Talks, an instructional routine for building student confidence, understanding, flexibility, and familiarity with standardized test questions. You will experience Test Talks from the point of view of a learner who is tackling multiple choice math questions on a standardized test. In addition, you will get access to a resource containing a bank of test questions to use with Test Talks. 
Learning Objectives

Upon completion of this professional development activity/course, you will be able to:

Become familiar with the Will This Be on the Test? packet
Facilitate a Test Talk
Reason visually and conceptually about test questions
Use test questions to teach conceptually and equitably
Presenter(s) / Facilitator(s)
Date
10/14/2023 - 10:00 am to 10/14/2023 - 11:30 am
PD Center
SABES Mathematics and Adult Numeracy Curriculum and Instruction PD Center
Topic Area
ADEI (anti-racism, diversity, equity, and inclusion)
Antiracism
Assessment
Culturally Responsive and Sustaining Teaching
High School Equivalency (HiSET/GED)
Mathematics and Adult Numeracy