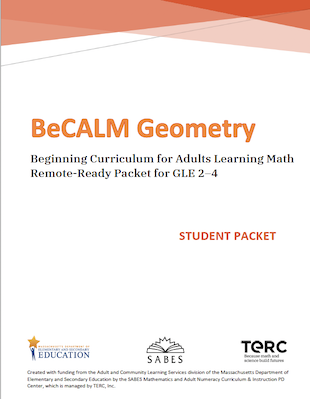 Overview
BeCALM (Beginning Curriculum for Adults Learning Math) contains remote-ready units for adult learners who need math instruction at beginning levels (GLE 2-4). This workshop will introduce this curriculum, which can be used remotely or in person. The resource includes a printable student packet and shape set and a teacher's guide. Click here to access the materials.
Audience

This professional development activity/course is designed for:

ABE teachers and administrators at all levels of math ability and comfort
Description
During this workshop, you will be introduced to the materials and will hear recommendations for their use from the designer and pilot teacher. You will also be introduced to the van Hiele theory of the development of geometric reasoning in order to better understand the academic goals of the unit. Lastly, you will have an opportunity to sample a few of the activities from the packet.
The math content in this unit is designed for students with a math level GLE 2-4 (CCRSAE Math level A-B). The materials are also appropriate for students with limited literacy levels (Reading level GLE 2+).
Please note: Registrants will receive a separate email from Sherry Soares (sherry_soares@terc.edu) from the SABES Math team at TERC with instructions on how to access the Zoom session.
Learning Objectives

Upon completion of this professional development activity/course, you will be able to:

Understand the van Hiele theory of the development of geometric reasoning, and what type of geometric tasks are appropriate for students at early levels
Gain familiarity with the materials and some of the activities in the packet
Presenter(s) / Facilitator(s)
Date
11/03/2023 - 9:30 am to 11/03/2023 - 11:00 am
PD Center
SABES Mathematics and Adult Numeracy Curriculum and Instruction PD Center
Topic Area
CCRSAE (College and Career Readiness Standards for Adult Education)
Corrections
ESOL/English Learners
High School Equivalency (HiSET/GED)
Learning Disabilities / Differences
Mathematics and Adult Numeracy