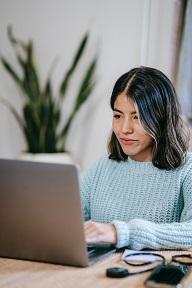 Overview
Growing digital skills isn't just for learners! Strengthening your digital skills can unlock new tools and resources to grow and enrich your practice in any role, allowing for easier collaboration with your team and more confidence supporting students in their own digital growth. We know that many adult learners only access digital literacy instruction from their programs, so this support can be essential.
You may be a little unfamiliar with computers because you don't need to use them much in your personal life. Or perhaps, like many of us, you learned on your own and feel you have some missing knowledge you'd like to fill in. You will reflect on your current skills and professional goals, then set goals in at least one of these areas: 
Essential Computer Skills, such as using the internet and email
Essential Software Skills, such as Microsoft Office and Google Docs
Using Technology in Daily Life, such as social media, job and career search, evaluating media and information, and supporting distance learning.
The facilitator will show you how to access and study the interactive online Northstar digital literacy lessons that are most important for your professional development, and will support you every step of the way. 
For those needing in-person support to get started, and those unable to attend an orientation, we are happy to discuss options. Directors/coordinators are also welcome to request a program- or region-based orientation. Feel free to reach out to Diana Satin: dianarsatin@gmail.com. 
Note: You only need to register once on this SABES site to attend an online orientation and begin your study. Once you start, you will have continuous access to your account. You can work at your own pace
Audience

This professional development activity/course is designed for:

Staff at the novice or intermediate digital literacy levels
Teachers, advisors, and anyone teaching digital literacy to students, and those in need of digital literacy skills in order to complete work at their program
Description
When you enroll in this course, you are signing up for individualized and group support in using the Northstar Digital Literacy platform to strengthen your digital skills. This offering has three components:
A group orientation, in which you will set your learning goals, create a Northstar account, get familiar with Northstar, get an overview of the support available to you, and get to know your colleagues who will be learning alongside you
Access to the Northstar Digital Literacy platform, which teaches essential computer and Internet skills
Access to regular check-in meetings, where you can get help and share your questions and progress with colleagues from across the state
One-on-one support around accessing and using Northstar (optional)
Participants are required to attend one orientation session and one or more check-in sessions. 
Fall orientation dates include:
October 13, 2023, from 1:00PM - 3:00PM
November 3, 2023, from 10:00AM-12:00PM
December 1, 2023, from 10:00AM-12:00PM 
Fall check-in dates include:
Friday, October 27, from 3:30PM to 4:30PM
Friday, November 3, from 3:30PM to 4:30PM
Friday, November 17, from 3:30PM to 4:30PM
Friday, December 1, from 12:00PM to 1:00PM
Friday, December 8, from 9:30AM to 10:30AM
Friday, December 15, from 9:30AM to 10:30AM
Dates later in the year to be announced.
Several days before the event, Jane Brandt at jane_brandt@worlded.org will send you an email with the Zoom link.
To receive alerts for similar events, make sure you're signed up for notifications. Sign into your SABES account, click the "My Account" tab→ " My Notifications" tab, and "Program Support - Digital Literacy".
Learning Objectives

Upon completion of this professional development activity/course, you will be able to:

Pass a Northstar assessment for at least one digital literacy skill you need in order to reach your selected professional development goal
Presenter(s) / Facilitator(s)
Date
10/13/2023 - 1:00 pm to 10/13/2023 - 3:00 pm
PD Center
SABES Program Support PD Center
SABES Program Support PD Center - Digital Literacy
Topic Area
Digital Literacy