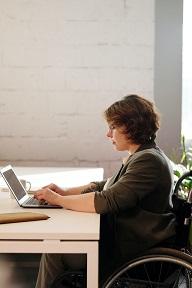 Overview
Imagine a world where your students navigate computers and the Internet with confidence, with all the skills to succeed in the digital age. Cultivating these essential digital literacy skills requires more than just strong instruction: they also need the right tools. This includes devices, connectivity, and, for those with disabilities, assistive devices. Technology can be prohibitively expensive for students and programs alike. In this workshop, you'll explore three sources of free and discounted devices and connectivity and discuss promising practices for loaning technology. You will also discover a source for borrowing assistive equipment tailored for computer users with disabilities so that all students have an equal opportunity to build their digital skills.
If you have sources or practices you recommend, please come ready to share. 
Questions? Contact Diana Satin: dianarsatin@gmail.com
Audience

This professional development activity/course is designed for:

Advisors, digital navigators, directors, ADA coordinators, and anyone of any level of experience supporting student and staff access to digital devices and connectivity
Description
Part 1: Workshop
In this session, you will learn about getting devices and connectivity through the federal Affordable Connectivity Program, EveryoneOn, and Digitunity. We will look at the MassMATCH lending library of accessibility equipment for those with a variety of disabilities. 
Working with colleagues from across the state, you will have time during the session to consider the resources and to develop a plan for next steps.
Part 2: Applying your Learning
After the workshop, you will finish your draft plan with the support of your colleagues and the facilitator who will be available to work directly with you (and your program colleagues, if desired).
Several days before the event, Jane Brandt at jane_brandt@worlded.org will send you an email with the Zoom link.
This session is one in a series of Digital Literacy Tools with a Purpose workshops designed to help teachers and other staff identify and use technology resources and tools for specific purposes. Other events in this series include:
If you're interested in digital literacy, be sure to check out our Digital Literacy Discussion from the SABES Program Support PD Center.
To receive alerts for similar events, make sure you're signed up for notifications. Sign into your SABES account, click the "My Account" tab→ " My Notifications" tab, and "Program Support- Digital Literacy".
Learning Objectives

Upon completion of this professional development activity/course, you will be able to:

Evaluate a resource for accessing devices or connectivity for use with students and/or staff at your program
Plan next steps for addressing a need at your program
Presenter(s) / Facilitator(s)
Date
10/27/2023 - 1:30 pm to 10/27/2023 - 3:00 pm
PD Center
SABES Program Support PD Center
SABES Program Support PD Center - Digital Literacy
Topic Area
ADA (Americans with Disabilities Act)
Advising
Digital Literacy
Distance and Blended Learning
Education Leadership & Program Management