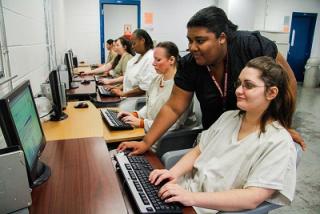 Overview
These meetings provide opportunities for teachers and others to share effective corrections-specific and corrections-accessible digital literacy tools, resources, and strategies.  Please join us to:
Share practices that are working well. 

Ask the group to help brainstorm ways to strengthen a practice that needs some reworking. 

Engage in idea-sharing about new tools or practices.

Suggest topics for the group to discuss.
This group is open to corrections staff in any role with any level of experience. The purpose of this group is to address the needs and interests of the members, so you, along with the other participants, will select the topics. The topic the group selected for this meeting is:
How other states/countries address device access and instruction
Other topics might include: 
Using the Northstar digital literacy curriculum

Planning for constant student turnover

Teaching digital literacy

Making the most of using tablets

Reaching all levels of learners

Funding
If you work in a correctional facility and would like to join meetings, please fill out this very brief form to let us know what supports would be helpful to your practice and what successful practices you can share with the group.
Audience

This professional development activity/course is designed for:

Classroom and computer teachers, coordinators, directors, and those in other positions in correctional facilities who are involved with digital literacy services.
Description
Digital Literacy for Corrections Sharing and Learning Group meetings are held quarterly: in FY24, meetings will be held November 6, February 12, and May (TBD). Participation in all meetings is encouraged but not required. In each meeting, we address topics that are relevant to your work and what's happening in your program. There are questions but no formal agenda. Please bring your burning questions, your hot topics, and your shining successes to share with the group!
We will use a discussion board to continue our collaboration and sharing outside of the meetings. 
This meeting is statewide, and anyone who works in corrections is welcome to attend, regardless of their role or title.
Questions? Contact Diana Satin at dianarsatin@gmail.com
Several days before the event, Jane Brandt at jane_brandt@worlded.org will send you an email with the Zoom link.
If you can't attend this session, we will be offering it again online this year on February 19 and in May (TBD). 
To receive alerts for events related to digital literacy, make sure you're signed up for notifications. Sign into your SABES account, click the "My Account" tab→ " My Notifications" tab, and check off: "Program Support - Digital Literacy"
Presenter(s) / Facilitator(s)
Date
11/06/2023 - 11:30 am to 11/06/2023 - 12:30 pm
PD Center
SABES Program Support PD Center
SABES Program Support PD Center - Digital Literacy
Topic Area
Corrections
Digital Literacy
Distance and Blended Learning
Education Leadership & Program Management