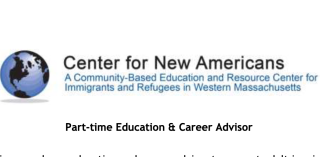 Hiring Organization:
Center for New Americans
Job Location:
North Hampton
Description of Job
Center for New Americans seeks an education and career advisor to support adult immigrant students enrolled in our free classes in English for Speakers of Other Languages (ESOL). This position will support Afghan evacuees, in addition to other students. This is a 6-month position (through June) which may be continued depending on funding.