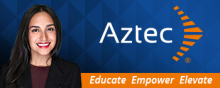 Bio
Nicole Guerra serves as a field service representative and brings seven years of experience to Aztec. As the Aztec Support Team Consultant, Nicole leverages her wealth of programmatic experience, technical knowledge, and consultative approach to deliver operational and professional development support to clients.
She is responsible for ensuring that each client receives a comprehensive yet tailored training and support experience from implementation through the entire engagement furthering Aztec's goal of continuously enhancing the client experience.
Nicole's extensive leadership and experience have played a key role in client satisfaction and service. She is committed to ensuring that she provides effective thought-partnership, achieving high-quality service, and building and maintaining lasting client relationships.