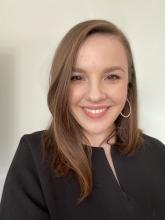 Short bio
SABES Program Support PD Center Director Alexandra Papagno coordinates PD in the areas of Program Management and Educational Leadership, Digital Literacy, LACES, and Professional Licensure Support. She also directs that MA Adult Literacy Hotline.
Alexandra has worked in adult education and volunteer management for 10 years, including four years as our bilingual (Spanish/English) Hotline Coordinator. Previously, was the Senior Volunteer Manager at the Boston Debate League, where she transformed volunteer trainings to be more effective and responsive to learner and community needs, including translating and delivering them in Spanish. During this time, she recruited over 2,000 volunteers and increased engagement among Black and Latinx volunteers by 36%. Alexandra also served as the Education Program Coordinator at South Boston en Acción, where she led community-based programming combining ESOL and civic engagement. 
Alexandra has a BA in Spanish and Certificate in Native American and Indigenous Studies from UMass Amherst. 
PD Center
Program Support
Educational Leadership & Program Management
Career Pathways
Advising & Student Support Services
Digital Literacy
Connecting Adults with AE Services
Professional Licensure Support
LACES
ADA Resources & Training