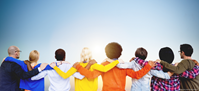 The SABES PSPDC has been engaging in our own internal reflection and self-education, asking what it looks like to take actions that make our work more aligned with the values of DEI. We can only support adult education programs in their DEI work when we also engage in the same work and ask the same difficult questions. Our work so far has surfaced as many questions as answers. For example, what does DEI mean to us? What action steps do we take to manifest these values? How can we specifically address the ever-present reality of racism within the broader umbrella of DEI? Over the past seven months, we have engaged in the following activities to expand our own awareness, question our assumptions, and identify action steps we need to take:
We have met monthly in a discussion group with colleagues representing all the PD centers at SABES to engage in a discussion about a resource and identify the implications it has on our work and action steps we will take. The established goal of the discussion group is to "keep DEI work at the forefront of our consciousness and to cultivate DEI as a sustainable part of the fabric and culture of our organization."
At World Education, our parent organization, DEI is part of each person's annual review and is discussed at every monthly U.S. Division meeting. As part of this work, all staff at the SABES PSPDC recently completed Foundations of Equity, Diversity, and Inclusion, offered by the Equity, Diversity, and Inclusion Institute. This online training was designed to help us create and maintain an inclusive and respectful workplace by building our understanding of common core DEI definitions; issues of privilege, oppression, power, and prejudice; isms, implicit bias, and intersectionality; the language of oppression; and historical contexts.
We regularly attend PD webinars and sessions, including SABES sessions on Exploring Identity and Implicit Bias: Diversity, Equity, and Inclusion in Our Work by Dr. Carmine Stewart and Cultivating Genius: An Equity Model for Culturally & Historically Responsive Adult Education with Dr. Gholdy Muhammad.
What You Can Do Now
Diversity, equity, and inclusion are essential values, but what do they actually look like and what do they mean to different people? We cannot assume that these terms mean the same things to all people. Here are some of the questions we have been asking that you may find interesting to engage with in your own programs:
What does diversity, equity, and inclusion mean within our program? Are these values reflected in our mission, vision, and values statement?
Diversity can refer to race, language, poverty, class, ability, sexual orientation, gender identity, and religion, among others. What other identities should we include in this definition when we discuss DEI? Who among our staff and students is not yet reflected in our statements and definitions?
How does race and racism, and specifically anti-black racism, fit into our discussion around DEI in our adult education program?
Does our staff reflect the diversity of our students? If not, how can we strive to understand their experiences and how these experiences influence their learning?
How can we involve students in helping us unpack what these terms actually mean to us?
PD Center
SABES Program Support PD Center