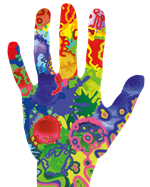 Culturally responsive and sustaining teaching (CRST) requires an ideological shift in practice that uses students' backgrounds and cultures as a vehicle for learning to promote and produce academic excellence. In 2020 and 2021, 44% of adult learners in the United States identified as Hispanic/Latinx, 19% as Black/African American, 8% as Asian/Asian American, and 1% as American Indian or Alaska Native (National Reporting System for Adult Education 2021). Although many adult learners are students of color, adult education teachers in the United States do not reflect this diversity. Adult educators who invest in becoming culturally competent are better equipped not only to serve their adult students but also to design rigorous learning experiences that engage a culturally and linguistically diverse student population.
In her book, Culturally Responsive Teaching & The Brain, Zaretta Hammond writes, "More than a motivational tool, culturally responsive teaching is a serious and powerful tool for accelerating student learning" (p. 3). Teachers who want to build students' intellectual capacity to move them from dependent to independent learners, understand the value of using cultural connections as scaffolds. ABE students will be engaged in learning that values their prior knowledge and experiences and also uses those connections as a bridge to new content. Additionally, when students feel affirmed and that they are in a safe and supportive environment, they are more likely to engage in complex learning activities. Culturally responsive teaching has the potential to be an academic game changer in ABE classrooms as it allows teachers to use students' backgrounds and cultures as the basis for relationship building and rigorous learning.
What does culturally responsive instruction look like?
In her article, "But That's Just Good Teaching! The Case for Culturally Relevant Pedagogy," CRT pioneer, Dr. Gloria Ladson-Billings states that CRT is "good teaching" that rests on three principles, "(a) students must experience academic success; (b) students must develop and/or maintain cultural competence; and (c) students must develop a critical consciousness through which they challenge the status quo of the current social order." These three principles give students the tools they need to develop new cognitive skills and habits of mind that will build their brain power and allow them to be "active participants in a democracy," which is especially relevant to adult education students (p. 160).
How can you, as an ELA teacher, design lessons that are culturally responsive and academically rigorous?
A good place to start is using the College and Career Readiness Standards (CCRS) as a basis for ELA instruction, as it includes all the skills required to design academically challenging lessons. Next, integrate materials into lessons and design activities that encourage students to draw connections between what they are learning and personal experiences. This can often be done by carefully selecting reading materials written by authors from historically underrepresented communities or by focusing on topics that concern many adult learners, including immigration, laws, environment, health, women's rights, civil rights, as well as current and community events. In addition, encouraging students to question the sources and biases of text can support thoughtful engagement and academic rigor in the ELA classroom.
Where can you find resources to support you in implementing culturally responsive teaching in your ELA classrooms? 
Visit the Culturally Responsive Teaching page of the SABES ELA website and register for upcoming ELA PD events, including Culturally Responsive Writing Instruction for ELA and Facing History: Equipping Ourselves and Our Classes for Difficult Conversations.
PD Center
SABES English Language Arts Curriculum & Instruction PD Center