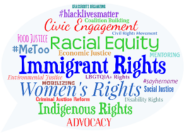 Like many individuals and organizations around the country, we at the SABES ESOL PD Center have been increasing our efforts to promote diversity, equity, and inclusion (DEI) in our communities and in our work. One area that we are especially excited about is our evolving collection of DEI Teacher Resources, selected and organized to support teachers of adult ESOL in:
integrating diverse perspectives into their curriculum and instruction, particularly those from underrepresented groups
fostering civic engagement, critical thinking, and a commitment to social justice
critically assessing their own biases, assumptions, and beliefs
While we plan to formalize this collection and make it available on the SABES website later this year, we would like to highlight a few of the resources now: 
Culturally Relevant, Multimodal Text Sets in Older Adolescent and Adult Learner Classrooms 
This website contains four themed text sets: 
Challenges of Migration: Building Resilience through Stories
Civil Rights in America
Dystopia: The Intersection of Science, Climate, and Genetic and Social Engineering
Self-Sacrifice for the Common Good
Each of the text sets includes links to videos and readings, Lexile® levels, supplemental teaching materials (like maps, charts, and essential questions), and a curriculum guide.
This site has hundreds of inspiring, often poignant, videos of immigrants narrating their personal stories. It includes lesson plans for using the videos for instruction, as well as lesson plans for working with students to create their own digital stories.
One would be hard pressed to find a subject not covered in Newsela's extensive library. The website has reading sets on thousands of topics including international current events, immigration, LGBTQ interests, science, math, social-emotional learning, and health. They are available at different reading levels and—with a subscription—include accompanying lesson activities and quizzes.
Newsela also has a section focused on culturally responsive and anti-racist pedagogy, with readings, reflection exercises, and videos.
You may have heard StoryCorps interviews on the radio, but did you know these interviews are also available on a website that has even more to offer?
Harvard's Implicit Association Test
Effective ESOL teachers critically assess how their own cultures, assumptions, and beliefs affect their worldview and approach to teaching and may find the Implicit Association Tests (IAT) from Project Implicit very informative. Founded in 1998, Project Implicit is a nonprofit organization and international collaboration among researchers studying implicit social cognition, i.e., thoughts and feelings outside of conscious awareness and control. The organization developed several IATs and made them available for individuals to take so that they could learn about their own implicit biases and begin thinking about how these biases inform their interactions with the world. Of particular relevance to teachers of adult ESOL are IATs exploring the implicit biases one may have about gender and careers; gender and science; Asian Americans; race; skin tone; sexual orientation; disabilities; gender identities; weight; religion; Arab Muslims; and age. The IATs are free, private, not perfect, but potentially enlightening.
PD Center
SABES English for Speakers of Other Languages (ESOL) Curriculum & Instruction PD Center