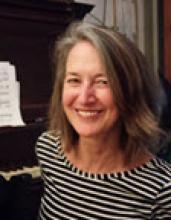 Short bio
Dori McCormack is the Director of the SABES Professional Development (PD) Center for ESOL. As Director, she leads a team of staff and consultants in developing and providing online and in-person standards-based professional development for ABE/ESOL teachers throughout Massachusetts.
Prior to this role, Dori worked for the SABES-West Regional PD Center for over ten years on ABE/ESOL curriculum development, assessment, workforce development, advising, and ABE-to-college-transitions. She has an MA in Applied Linguistics and over 25 years of experience in the Adult ESOL field. Her work has included teaching in a variety of contexts, from community based programs to college writing classes; managing the education program in a correctional facility; educating ESOL teachers in both Massachusetts and Cuba; and presenting at state and national conferences.
Dori was a contributor to the Massachusetts Adult Basic Education Curriculum Framework for English for Speakers of Other Languages (ESOL), The Massachusetts Professional Standards for Teachers of Adult ESOL, and The Massachusetts English Language Proficiency Standards for Adult Education.