Job Title
Coordinator of Instructional Technology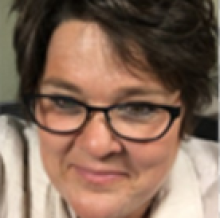 Short bio
Kate Anderson is the Coordinator of Instructional Technology and Assessment for the SABES PD Center for English for Speakers of Other Languages (ESOL). She works with subject-matter experts to design and develop High Quality Professional Development (HQPD) for online, blended, and face-to-face delivery to the adult education field. Kate strives to provide the highest quality of support to practitioners taking online courses to ensure that they have positive learning experiences.
Kate has been in the adult education field since 2007, serving as a Community Planner, Learn at Work Program Coordinator, Career Pathways instructor (ESOL), Technology Coordinator, and Assistant Program Director at the Quinsigamond Community College Adult Learning Center; she is currently a member of the SABES team. Kate has been a member of the ACLS Advising Task Force (Part 2), SABES Advisory Group, and ACLS Technology Working Group. She currently represents SABES on the ACLS Statewide Advisory Board.
Kate holds a Masters Degree in Education in Instructional Design from the University of Massachusetts, Boston, with a focus on adult and non-traditional learners. Kate continually takes advantage of a wide variety of courses and professional development opportunities to ensure delivery of the highest quality content to the ESOL field across Massachusetts.