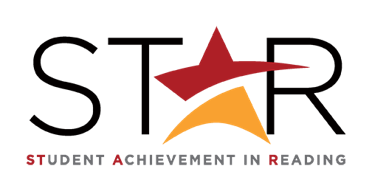 Overview of the STAR Initiative
The STudent Achievement in Reading (STAR) initiative focuses on building the reading skills of intermediate level adult learners (GLE 4.0–8.9). STAR is explicitly listed as one of the ways in which OCTAE "supports states in meeting these new WIOA requirements".
Years of research in reading methodology identified four "essential components of reading": alphabetics, fluency, vocabulary, and/or comprehension, and also found that mid-level adult learners need all four components to varying degrees, whereas emerging readers need more alphabetics and fluency, and advanced readers need more voabulary and comprehension.
STAR, aimed at GLE 4-8, is therefore designed to work on all four components, with instruction aligned to the results of diagnostic assessments that identify learners' individual strengths and weaknesses. STAR programs that are run with fidelity to the STAR model have been found to be highly effective.
STAR Students Say . . .
---
→ Year-long STAR training for FY24 begins October 27, 2023
Learn More About STAR
HANDBOOK: Massachusetts STAR Handbook
TO THE POINT: WIOA, EBRI, & STAR
STAR VIDEOS:
READ STAR TEACHERS' VIEWS:
NATIONAL STAR RESOURCES:
SEE ALSO:
The STAR Team of Massachusetts
PD Center
SABES English Language Arts Curriculum & Instruction PD Center