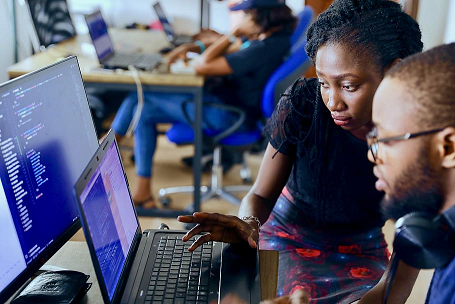 Adult learners start their classes with a wide range of digital skills and access to technology. When you provide your students with pre-class support and resources, you boost their confidence and readiness and prepare them to hit the ground running. You also set the tone for your class and program by demonstrating that digital literacy is a key part of learning, and that you're ready to meet students wherever they are.
Over the last few years, the Program Support PD Center has seen staff and programs use many new strategies to jump start students' digital skill building. Below are four strategies to explore in the new year, but remember that we're always adding more. Make sure your SABES notifications are set to include "Program Support - Digital Literacy" to keep up with new trainings and resources!
1. Ensure access to technology. When you help students access devices and connectivity, you ensure they can study and practice at any time. 
2. Connect students and staff with Northstar's digital literacy lessons. Did you know that DESE provides free subscriptions to Northstar Digital Literacy for funded programs? Northstar includes assessments, teacher-led curricula, and self-paced modules that can be used in or out of the classroom to build computer and internet skills.
3. Use resources other teachers love. The Digital Skills Library features teacher-curated lessons, modules, assessments, and materials in ten domains (including device ownership, gateway skills, and workplace). Check out the Digital Skills Glossary flashcards for teaching vocabulary -- these could be a great addition to a digital literacy "bootcamp" before students begin classes.
4. Add digital literacy to your student onboarding. When you identify the skills and tools students need for their first days and weeks of class and teach those before classes even begin, you set the stage for a strong start. 
Find ideas for remote onboarding and teaching Gmail, Google Classroom, and Zoom in the "Onboarding to Digital Literacy" section of the PSPDC Digital Literacy Discussion. 
Explore digital approaches to onboarding, communications, and program-wide support in the "Supporting Students With Beginner Digital Literacy Skills" video. 
Mark your calendar for Digital Literacy Tools With a Purpose: Recruitment Through Orientation on December 11. This webinar will share tools and strategies to support student onboarding. Keep an eye on your notifications for the calendar posting!
The PSPDC is here to support you at the start of classes and all year long! We are happy to answer your questions, talk through new ideas and approaches, plan your professional development with you, access coaching and custom PD for you or your program, and so much more. For digital literacy support, please contact Diana Satin: dianarsatin@gmail.com. 
PD Center
SABES Program Support PD Center - Educational Leadership & Program Management
SABES Program Support PD Center - Digital Literacy