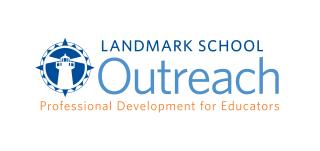 Overview
Learn how to teach writing skills using a consistent process that can be applied to individual paragraphs, as well as multi-paragraph compositions and essays.
Audience

This professional development activity/course is designed for:

Teachers and tutors of students who struggle with and/or require direct instruction in writing
Teachers and tutors of students with a variety of learning challenges, including the challenge of learning English
Description
Landmark School uses a five-step, sequential model for teaching writing skills that incorporates modeling and teaching metacognition throughout each step. This process can be applied to paragraph, multi-paragraph, and essay-level writing assignments across all subject areas. This session will include an introduction to process writing and an appropriate hierarchy of approaching skill instruction, as well as techniques for oral rehearsal, paragraph framing, and the use of hands-on materials. We will also discuss the role of metacognition in fostering student independence and resilience.
Please note: You cannot access this session from the SABES website. You will receive an email from the ELA PD Center at World Education 1–2 days before the session with instructions on how to access the Zoom session.
For more information, please contact Zoe Reinecke, zoe_reinecke@worlded.org.
Learning Objectives

Upon completion of this professional development activity/course, you will be able to:

Break down the complexity of the expository writing process
Demonstrate how metacognition can be modeled in ways that help students improve their writing
Demonstrate brainstorming techniques
Explain organizing techniques and the use of graphic organizers and templates
Apply a consistent process to writing paragraphs, as well as multi-paragraph compositions and essays
Presenter(s) / Facilitator(s)
Date
06/06/2023 - 1:00 pm to 06/06/2023 - 3:00 pm
PD Center
SABES English Language Arts Curriculum & Instruction PD Center
Topic Area
ELA
High School Equivalency (HiSET/GED)
Learning Disabilities / Differences
Transitions to College
Self-Paced Monthly Offering
Off