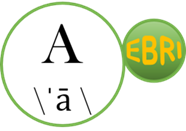 Overview
Alphabetics, including phonemic awareness, phonics, and decoding, is the process readers use to identify words. Readers must rely on alphabetic knowledge and decoding skills to read unfamiliar words, critical skills for adults reading at GLE 0–3.9.
In this 6-hour self-paced online course, learn about effective alphabetics instructional strategies and activities and create a short lesson plan that corresponds to your learners' decoding levels. Adaptations for teaching remotely will be included.
Note: STAR-trained practitioners do not need to take this course, but may choose do to so as a refresher or to extend their practice to this GLE range.
Audience

This professional development activity/course is designed for:

Reading teachers and tutors for GLE 0-3.9 and intermediate level teachers whose students have gaps in their decoding skills.
Administrators and other staff who support reading teachers and tutors
Description
Do your learners struggle with decoding unfamiliar words? In this course, learn strategies from a veteran reading teacher on how to effectively instruct students in alphabetics, including phonemic awareness, phonics, and decoding.
Evidence-based reading instruction (EBRI) is a set of practices, grounded in research and professional wisdom, for teaching adult learners the four essential components of reading that WIOA requires—alphabetics, fluency, vocabulary, and comprehension. This PD offering focuses on alphabetics.
This course consists of three required components, needing approximately six hours, spread over two months:
Complete six self-paced online modules, containing videos, embedded readings, and quick skill checks of the content and learning objectives.
Create a short alphabetics lesson. Receive feedback from the instructor on the submitted lesson.
Engage with other participants in a discussion forum.
PDPs: While this course is not eligible for PDPs by itself, it may be bundled with other EBRI professional development to earn PDPs.
Participants will receive 6 PD hours in LACES upon completion of this session.
Please note: You cannot access this course from the SABES website. You will receive an email from Zoe Reinecke of the ELA PD Center 1–2 days before the course begins with instructions on how to access the course.
For more information, please contact Zoe Reinecke, zoe_reinecke@worlded.org. 
Learning Objectives

Upon completion of this professional development activity/course, you will be able to:

Explain the following terms: alphabetics, phonological awareness, and phonemic awareness

Utilize effective and appropriate instructional strategies for teaching phonemic awareness, phonological awareness, and phonics
Create a short alphabetics lesson using the strategies and activities identified above and the "Steps in an Alphabetics Lesson" presented during the course. The lesson should include EBRI techniques, with activities corresponding to the learners' instructional needs.
Presenter(s) / Facilitator(s)
Prerequisites
See the ELA events page for current dates and registration information for the following recommended prerequisites:
Overview of EBRI
Diagnostic Assessments of Reading 
NOTE: Previous completion of or current enrollment in STAR training fulfills these recommended courses.
Location
Online (Moodle)
United States
PD Center
SABES English Language Arts Curriculum & Instruction PD Center
Topic Area
Distance and Blended Learning
EBRI (Evidence-Based Reading Instruction)
ELA