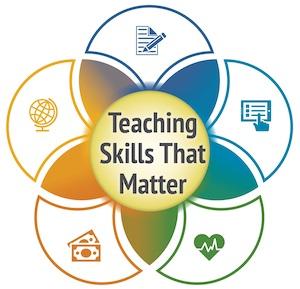 Overview
This introduction to the Teaching Skills That Matter in Adult Education (TSTM) Toolkit provides an overview of the toolkit framework. The introduction also provides materials and guidance to train teachers to incorporate the skills that matter into adult education programming by using instructional approaches that work across relevant topic focus areas that are connected to student needs. Using the TSTM project's tools and training, adult education teachers can teach the transferable skills students need in these critical contexts. 
Audience

This professional development activity/course is designed for:

Teachers new to Public Adult Education of MA, who are seeking effective strategies to teach adult learners meaningful skills and knowledge
Adult education practitioners interested in integrating TSTM into their curriculum planning and instruction
Alumni of the MA TSTM Train-the-Trainer and Customized Approach Academies who can use this as a resource to help train their peers in the TSTM framework and sustain TSTM implementation at their program
Description
This self-paced, asynchronous course will introduce you to the components of TSTM and its guiding principles. It will take approximately three hours to complete. The content is presented using a variety of formats, including text and video, as well as interactive tasks.
The course presents information about the purpose and components of TSTM, explains how to connect the nine central skills to student goals, describes how TSTM expands and deepens instructional content within the five focus areas, details the benefits and elements of the three instructional approaches, and provides strategies to anticipate and address implementation challenges. The last section of the course explains where to access the TSTM Toolkit and how it is organized, and it provides information about additional resources. 
This course can also be used for group training purposes, for programs wishing to introduce TSTM to returning and new instructors, and to facilitate shared curriculum planning and instruction. 
Please note: One week before the event, registrants will receive an email from sherry_soares@terc.edu from the SABES Math Team at TERC with instructions on how to access the course. 
This asynchronous course may be a prerequisite to participate in other professional development. 
Additional Resources for Curriculum and Instruction
Below is a list of additional resources available through SABES, the Massachusetts adult education (AE) professional development (PD) system, that can deepen your knowledge of the TSTM components and instructional approaches. (Some of those may require this Intro to TSTM course as a prerequisite). 
Look for upcoming PD opportunities on the SABES PD Calendar. 
Math: 
ELA and ESOL:
An Approach That Works: Problem-Based Learning (Spring 2024, dates TBD)

An Approach That Works: Project-Based Learning (Spring 2024, dates TBD)
Resources
In addition, you can download and save the TSTM Resources document (linked below) which includes links to all sections in the TSTM Toolkit, along with additional tools and resources that may be helpful to you as you begin your journey with TSTM integration.
Learning Objectives

Upon completion of this professional development activity/course, you will be able to:

Identify how the TSTM framework addresses adult learners' real-life needs
Describe the components of the TSTM framework
Connect the nine central skills to students' personal, academic, and professional goals
Expand and deepen instructional content within the five topic focus areas
Identify the benefits and the essential elements of the three TSTM instructional approaches
Describe strategies to implement TSTM in your classroom
Access the TSTM Toolkit and other resources
PD Center
C&I PD Centers Collaboration
Topic Area
Curriculum Development
ELA
ESOL/English Learners
Mathematics and Adult Numeracy
New Staff
SABES / ACLS