The ELA FOCUS Reflections, available as embedded tools in the ELA Proficiency Guide and as separate documents on this page, provide one means for teachers to self-assess their practice in relation to the ABE Professional Standards. Teachers check off areas that they would like more information about or training around, i.e., the areas they would like to focus on in their professional learning.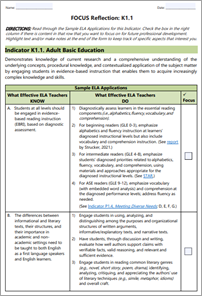 New teachers or teachers who are as yet unfamiliar with the ELA Proficiency Guide are encouraged to engage in this reflection for each Indicator during their first reading of the ELA PG or when they take the Introduction to the PG course.
Experienced teachers may find it helpful to revisit the FOCUS reflections for particular Indicators periodically or in conjunction with the ELA Self-Evaluation Tool.
STANDARD K1 Content, Theory, and Research
STANDARD K2 Standards
STANDARD P1 Design and Instruction
STANDARD P2 Assessment
STANDARD C1 Growth Mindset
STANDARD C2 Reflective Practice
PD Center
SABES English Language Arts Curriculum & Instruction PD Center